TFW says goodbye to Pacers
Pacers are relatively uncomplicated machines, being easy to operate, economic to maintain and – for their age – generally reliable. However, it's fair to say that they have their flaws. The trains' accessibility is very poor for people with reduced mobility. They were originally fitted with spartan interiors with bus-style bench seats, which didn't provide much passenger comfort. With only two axles and four wheels on each carriage, they can give some bumpy rides, and let out some loud squeals when going around tight corners, as anyone who has travelled to Barry Island on them will testify!
Issues like these have meant the Pacers have never been popular with the travelling public. The Class 141s, which were dogged by reliability issues throughout their careers in Yorkshire, were withdrawn in 1997 and exported to Iran. But the more reliable 142s, 143s and 144s went on to have much longer careers in England and Wales, reaching many parts of the network – over the last 35 years, it's been possible to find Pacers in places as far apart as Carlisle, Paignton, Hull and Fishguard. Many were extensively refurbished to replace the benches with more comfortable traditional seating.
But by the mid-2010s, with passenger numbers much higher than when the Pacers entered service and the trains becoming tired and outdated, it was clearly time for a change, and brand new trains began to be ordered to replace them. Train operators began to withdraw Pacers from 2019 as the new trains began to enter service.
However, despite their reputation and their flaws, some of our colleagues who have worked on the trains are sorry to see them go. Lukas Siko, our Safety Operations Standards Competency Manager, worked on the Pacers from the start of his railway career and grew to appreciate them as a driver.
"I don't think many of my colleagues would believe me when I say I have enjoyed driving Pacers across our valleys network," he said. "I found them more comfortable to sit in, especially at my height, and they provided a great view from my 'office' through their windows, looking at some beautiful panoramas.
"I know our customers never got used to travelling on these trains, and it may have taken me seven years to actually like and enjoy spending time on them, but I will miss seeing Pacers running up and down the valleys network once they retire."
But why save them? For many heritage railways, it's an easy decision: the Pacers provide a cheap and easy-to-maintain option for running services, compared to high-maintenance steam engines and older diesel trains. At a time when many heritage railways have spent most of the last year closed due to the COVID-19 pandemic, the arrival of a Pacer can be a major boost, allowing them to easily run socially-distanced passenger services and driver experience courses.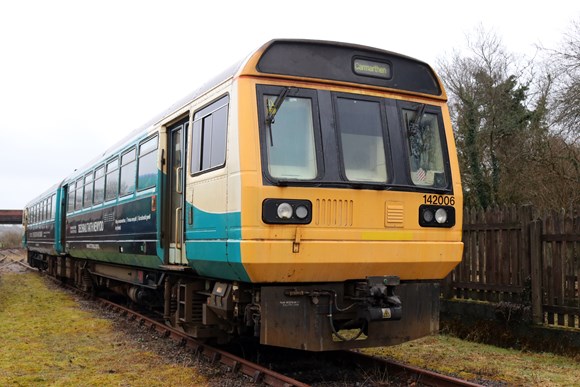 "The Llanelli and Mynydd Mawr Railway are delighted to be the new home for Pacer 142006," said David Mee. "Its arrival will allow the railway to offer socially-distanced train rides once the current restrictions allow, and its preservation at Cynheidre will ensure that its thirty years of service on the Valley Lines is celebrated in South Wales for many years to come."
The L&MMR's next step is to raise money for 142006's upkeep. The South Wales Railcar Group has been formed to look after the train and another veteran Class 122 railcar. It's now raising funds for the Pacer to be repainted into the classic red-white-and-green livery of Valley Lines, the former operator of rail services in South Wales. It will also be named in honour of Tom Clift, the popular former general manager of Valley Lines and a leading figure in the British rail industry until his sudden passing in 2012.
But there are other ways of making use of them. Last year, Kirk Merrington Primary School in County Durham received a special delivery – a former Northern Class 142, which is being converted into a library and wellness hub. A young couple from Durham have bought another Class 142 for conversion into a home, holiday let and community art space, while Platform 1, a mental health charity based at Huddersfield station, are receiving a Pacer for use as a training centre to teach cooking and IT skills.https://www.youtube.com/embed/WoCROPHjORw
For all their flaws, the Pacers have garnered affection from a small number of travellers and enthusiasts. They have been never cool, like an A4 Pacific, High Speed Train or Pendolino, but they've never tried to be. They go about their daily duties without fuss, and most customers get on and off without noticing them. And for many people, they have been an ever-present part of their lives for many years – some will have had their first train journeys on Pacers, or will have travelled to their first days at work, first holidays or first dates on them. Perhaps it's no surprise that there are a hardy few who wish to keep them alive in some form.
However, the end of their long service marks a key step in the transformation of the Valley Lines, as part of the development of the South Wales Metro. While the Pacers have worked hard throughout the network over the last 30 years, our customers deserve more modern trains that provide better facilities, improved accessibility, faster journeys and a more comfortable ride, without those squealing wheels!